The Immaculate Reception
If you have speakers, turn them on. The Live radio broadcast
of that call is now playing! Hit the refresh button to hear it again if you missed it.
The Immaculate Reception
Pittsburgh Steelers vs. Oakland Raiders
1972 AFC Divisional Playoff
December 23rd, 1972
Three Rivers Stadium

The 1972 Divisional Playoff game with the Oakland Raiders
produced the single most exciting and memorial play in NFL history. The Immaculate Reception not only helped in defeating the Raiders on that day in December of 1972, it changed an entire city into Champions. The Steelers went on to become the Team of the Decade, where the Raiders went on to only finish second in most cases to the Steelers.

| | | | | |
| --- | --- | --- | --- | --- |
| Down | Yards to Go | Ball on | Quarter/ Time Left | Score |
| 4th | 10 | Steelers 40 | 4th / 00:22 seconds | Oak 7 Pitts 6 |
"Bradshaw back and looking, looking for someone to throw too....
fires it down field... it's caught out the air!!!"


Listen to an audio clip here

SORRY, Windows Media Audio version 7.0 format only.
click on link and if you have the Media Player version 7.0, the clip will play
Windows Media Player v7.0 Download page
audio clip features Bob Costas describing the play with the radio call as well.
video clip at bottom of page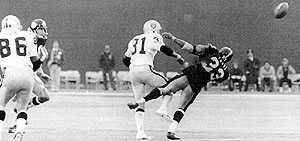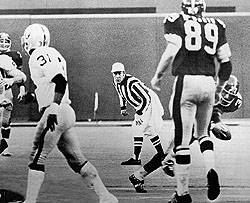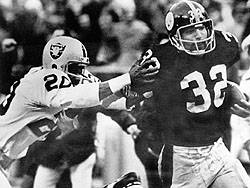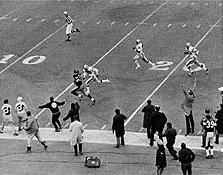 Listen to the NFL FILMS version of the
click this link to bring up Real player to watch and hear this Great moment.
http://idirector.media.ibeam.com/real/ism_pitt_steelers/VA001606.ram

Did you know?
Prior to this 1972 Divisional Playoff game with the Raiders, the Steelers had won "nothing" The Steelers were not a very good franchise.
Since this 1972 Playoff... well, I'll let you be the judge.

Super Bowl Championships
IX, X, XIII, XIV [appeared XXX]
AFC Championships
1974, 1975, 1978, 1979, 1995
AFC Central Division Championships
1972, 1974, 1975, 1976, 1977, 1978,
1979,1983, 1984, 1992, 1994, 1995, 1996, 1997, 2001
things that make you go hmmm!